Home reposession scandal in US
15/10/2010 00:18
Robo-signing eviction scandal rattles Wall Street
Bank shares fall over concerns US watchdogs will decide thousands of Americans have been evicted unfairly by employees rubber-stamping repossession documents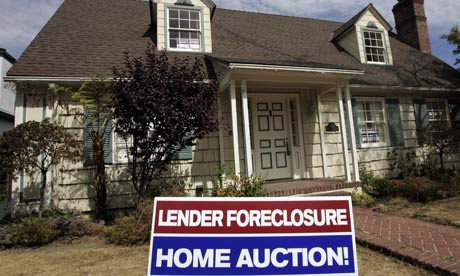 JP Morgan boss Jamie Dimon says banks could be fined over how they have handled foreclosures. Photograph: Reed Saxon/AP
Fears US regulators will rule that thousands of Americans may have been unfairly evicted from their homes rattled Wall Street today as the scandal over the use of "robo-signers" escalated.
Employees at mortgage firms are alleged to have rubber-stamped documents to force out defaulting homeowners without following the correct procedures.
Shares in Bank of America, Citigroup, Wells Fargo and JP Morgan all fell sharply after it emerged that Xee Moua, an employee at Wells Fargo, the second-largest US mortgage servicer, had pushed through 500 foreclosures a day.
The growing scandal over the way homeowners have been evicted came as property data firm RealtyTrac reported that the number of houses seized by banks topped 100,000 for the first time in September. Lenders took possession of 102,134 properties in September. The state with the highest rate was Nevada.
"Lenders foreclosed on a record number of properties in September and in the third quarter, taking a bite out of the backlog of distressed properties where the foreclosure process was delayed by prevention efforts over the past 20 months," said James Saccacio, chief executive of RealtyTrac.
However, Saccacio expected the number of repossessions to slow in October, because of the moratorium some lenders have imposed while they investigate whether they followed procedures correctly.
Bank of America, JP Morgan and GMAC are among those to have halted foreclosures after discovering that "robo-signers" had approved thousands documents. At JP Morgan, the staff were known as "Burger King kids" – people who walked in from the street and barely knew what a mortgage was.
Attorney generals in 50 American states this week began a joint investigation and have warned that they believed the use of robo-signers "may constitute a deceptive act and/or an unfair practice or otherwise violate state laws".
JP Morgan's chief executive, Jamie Dimon, admitted this week that banks could face penalties for their foreclosure practices, while defending JP Morgan's conduct: "We don't think there are cases where people have been evicted … where they shouldn't have been."
Court documents reportedly show that Moua, a vice-president of loan documentation for Wells Fargo, said she had signed as many as 500 foreclosure papers a day. In a sworn deposition she admitted she did not verify the principal and interest the bank claimed the borrower owed. The only thing she checked was whether her name and title were accurate. She said she thought the documents had been reviewed by outside lawyers.